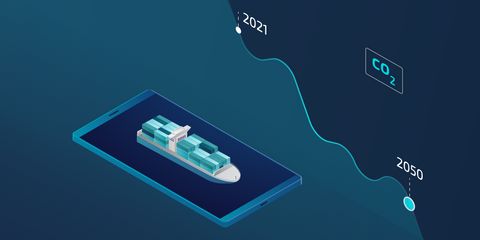 To tackle climate change it is crucial that sectors such as shipping cut their carbon emissions - and do so fast.
At Onboard, we are committed to play our part as a stakeholder in the maritime industry. So we were energized after listening to and reading some recent research by Shell and Deloitte; a podcast Can shipping navigate to net zero? and report on the topic of Decarbonising Shipping. In the report, Shell notes "we want to catalyze action by creating a common understanding of barriers the industry faces and the solutions that will be most effective" - and that gave us the inspiration to provide some new perspectives on overcoming some of the barriers and solutions outlined in the research.
Operational efficiency is the foundation of decarbonization
According to the research, operational efficiency will underpin the entire path to net-zero. We are particularly excited about this opportunity, as our technology solutions are built to unlock operational efficiencies that can take a pivotal role in decarbonization efforts.
With the insights below, which we have gained both through developing our solutions and collaborating with customers and partners, we hope that more industry stakeholders will gain new information into how to accelerate their decarbonization efforts.
Barrier 1: Who pays to cut carbon footprints now?
As widespread adoption of zero-carbon energy is years or decades away, reducing emissions with the vessels we have today is critical. And the good news is that there are many ways to do this. However, a conversation we have seen play out a number of times - which is also discussed in the report, is who is responsible for the emissions, and who will make the investment? A key dilemma facing industry players today is that when owners invest, charterers profit, meaning there is often a lack of incentive for owners to invest, and deadlock is the result.
Our perspective: Solutions need to work for all parties
So the challenge for the industry - and startups such as Onboard in particular - is: can we develop viable solutions that make business sense for both asset owners and charterers?
There are a number of ways to make this work. One is adopting pricing models that work for both owners and charterers. We believe that removing the large upfront capital expenditure to a much more manageable and predictable operational expense can do that, which is why we operate on a subscription model.
Another way to make solutions work for both parties is to develop technology that enables owners to differentiate their offerings, enabling them to win more new business, retain more clients, and protect their margins. This is particularly important at times when oversupply is rife, and owners must often compete on price rather than added value. Providing vessels that have solutions already available that enable charterers to access and share rich data and operate more efficiently, can always make the relationship more sticky. For more information, see this post: Who pays? How fleet owners and charterers can both win with fleet performance solutions.
Barrier 2: Transparency into emissions data
Emissions transparency across the entire maritime sector is critical to drive decarbonization - without it, it is impossible for customers, investors, and regulators to verify commitments and identify best practices and top performers.
However, there are a range of barriers mentioned by research respondents that need to be overcome before that can be achieved. These include:
Monitoring technology needs to be improved to help customers make informed decisions.
Transparency needs to be increased dramatically, to verify performance.
Binding emission reduction regulations need to be introduced.
These issues are interrelated. For example, even if regulations appeared tomorrow that required maritime businesses to report on their carbon emissions, many organizations would not have any way to do so. And even if they are measuring fuel consumption, they may note be able to report on it in a format that meets regulatory requirements. To reach targets, it is important that stakeholders work together. But currently, many maritime businesses do not have any way to share best practices or data with partners, customers or other stakeholders. And so on.
Our perspective: Leverage equipment-neutral solutions for transparency and flexibility
Once again, a challenge for industry stakeholders including Onboard; how can we help drive transparency so that organizations have visibility into their entire fleets' performance, and the ability to share relevant performance data with partners, regulators, customers, and other stakeholders?
In our low-carbon future, customers will need hard proof that their suppliers are operating sustainably. Right now, there are a number of solutions for fuel efficiency, but many are not able to be used across different equipment, sensors, and vessels. However, newer solutions such as Onboard's Fuel Efficiency app are equipment-neutral. They can be used across your entire fleet, no matter which equipment vendors you work with - or even if you are already using a different solution. Organizations such as Acta Marine are leveraging the Fuel Efficiency app to objectively and transparently share fuel emissions reduction data with one of its key customers.
Barrier 3: Technology alignment
The respondents in the research mostly frame technology alignment as an issue for new fuels, in the sense there are many challenges and options, but a lack of widespread agreement. Technology alignment is also a key barrier to aggressively ramping up digitalization-powered operational efficiencies in the industry today. Many different non-interoperable solutions and vast amounts of data from vessel equipment and across the supply chain are effectively locked away in silos, and unable to be leveraged for efficiency gains.
Before digitalization in the maritime Industry can reach its full potential, and because many digital innovation initiatives rely heavily on collaboration and the effective use of operational data from ships, we must find a way to connect our maritime assets, people and processes in a uniform way.
Our perspective: Leverage APIs for collaboration and connectivity
The go-to technology for making data available in today's digital world is the Application Programming Interface (API). APIs allow software to communicate and share data with other software. APIs are future proof, in the sense that they are able to be adapted to any changing requirements for data. And while they are becoming increasingly prevalent in the maritime industry, there is still plenty of room for more innovation. In fact, organizations are leveraging APIs to collaborate by sharing their data and services. The "API economy" is already unleashing enormous innovation in many sectors, and is poised to do so in the maritime industry too.
With solutions such as the Onboard Vessel API, maritime businesses are able to open up the data flow of machines and humans - including emission data - across their whole fleet, and make it accessible to any internal or external stakeholders such as customers, supply chain partners, or regulators. This means maritime businesses can not only share it in any format they need to, but even build custom reports, dashboards, apps, or automate business processes.
In our mission to decarbonize our industry, solutions such as this can help maritime businesses build detailed operational profiles of their vessels. This is an important consideration because the range of clean energy fuels available in the future is likely to be far more diverse than it is now, with different fuels better suited for different vessels and use cases. These operational profiles will help the industry make smart choices around what alternative fuels and propulsion technologies to invest in, and how to operate their vessels in the net-zero emissions future.
We can make great leaps in operational efficiency today
The race to decarbonization is certain to be complex. However, if we have one new perspective to add to the research by Shell, it would be that industry players may be underestimating the potential to massively increase operational efficiency today, with solutions that already exist.
We are collaborating with a range of organizations, including Acta Marine, Peterson, to improve their operational efficiencies and innovate their business models. If you would like to find out more about how we may do the same for your business, get in touch.