Access every data point in your fleet, in near real-time
The Onboard API enables you to deeply integrate maritime data from across your fleet directly into your own dashboards or applications. It makes accessing data as easy as possible, and positions you at the centerpoint of all data from every sensor, system, machine, and crew member, everywhere in the world.
APIs are transforming businesses the world over. And it's time for the maritime industry to get on board!
Explore your data
The Onboard API allows you to explore your data and gain deeper insights into your operations, assets, and people. It can be thought of as a way to query your own fleet data lake, the Onboard Platform.
Depending on the apps you use you can ask questions such as:
"What has been the total fuel consumption and distance travelled of my fleet in the North American region in the last two months?" or,
"What were last years' average port turnaround times and what were the fastest and slowest ports?" or simply,
"What is the fuel pressure and bearing temperatures readings of the port side engine?"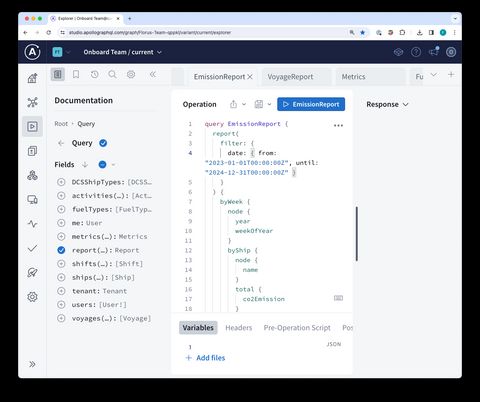 Build amazing integrations
As well as exploring your data, you can use the API to integrate it into your dashboards, or automate workflows by using it in your business applications. For example, you could integrate with:
Planning applications

Automatically send vessel status updates and arrival and departure times to your planning applications.

Billing systems

Use vessel logbook entries to generate customer invoices in your billing systems.

Maintenance software

Use machine runnings hours as input for your maintenance schedules.
Business benefits
The Onboard API helps your organization deliver digital transformation and innovate faster in a number of ways:
Open up collaboration. The API provides a new and effective way to engage with your customers.
Streamline operations. Instead of using multiple channels for digital communication with your fleet, you can now use one.
Do more in less time. The powerful and flexible GraphQL standard that is used for our API helps you reduce integration and IT costs.
Technical benefits
Working with the GraphQL standard provides a number of specific advantages for developers and IT teams:
Faster app development. There is only one endpoint which simplifies data fetching. You can iterate quickly without waiting for new backend endpoints.
Get the data in the shape you need. The API shows exactly what types of data can be fetched, the relationships between these types, and the queries that are allowed to be made.
No more breaking changes. The API evolves over time so there are no versions, it's self-documenting and has autocomplete and syntax validation.