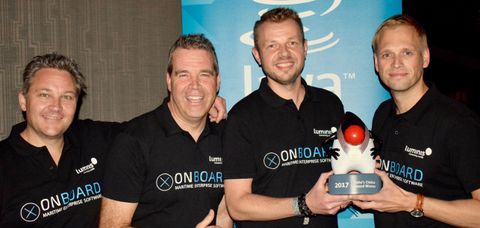 Onboard is thrilled to announce that we've won the Duke's Choice Award 2017.
We are incredibly honored to have received this award at Oracle's JavaOne, the largest Java technology conference in the world. The event took place Monday October 2nd in San Francisco, home to many of the world's biggest tech companies.
The Duke's Choice Award celebrates extreme innovation using Java technology and goes to entrepreneurs who work with Java technology in a groundbreaking manner. We want to share this very unique moment with you, as this marks a new special period in our evolving story.
Connecting the maritime world
Onboard was founded with the belief that we can push technology further to create new ways of connecting and working together in the maritime industry. The Onboard Platform is the realization of that vision and sets a new standard for maritime connectivity. And, it now has received huge recognition for the technological advancement it has brought.
The Onboard Platform
Onboard provides a platform that facilitates connectivity between maritime systems and between people. It's the Internet of Things. From sensors, to machines and systems on board, to crew, partners and the industry. Our platform is open to other developers and customers so they can fully integrate their systems. It also hosts our own industrial apps that enable our customers to be in real-time control of their fleet and remain in control of their business.
Winning technologies
The Onboard Platform received the Duke's Choice Award because of the innovative technologies it's made of.
The true modular platform design enables our customers to deploy apps depending on their subscriptions, and to update features without the delay of service, both offshore and onshore. The modularity allows us to maximize compatibility with all sensor types and maritime systems and process machine data and human input differently, and to enable big data analytics. A specially developed synchronization layer manages seamless data transfer under challenging circumstances at sea while maximizing data security.
All this would not have been possible without our technology partners, Luminis. Our special thanks goes out to them, as well as to Kotug International and Seabulk Towing and all other sponsors.
Check out the Oracle's Duke's Choice Awards!
Let's connect
A maritime revolution is beginning, and we'd like you to join us. Be part of our story and a new, connected maritime industry. Connect with us to learn more about our award-winning Onboard Platform.
For more information on the Onboard platform, please give us a call at tel:+3110312507 or write us at: info@onboard-platform.com.